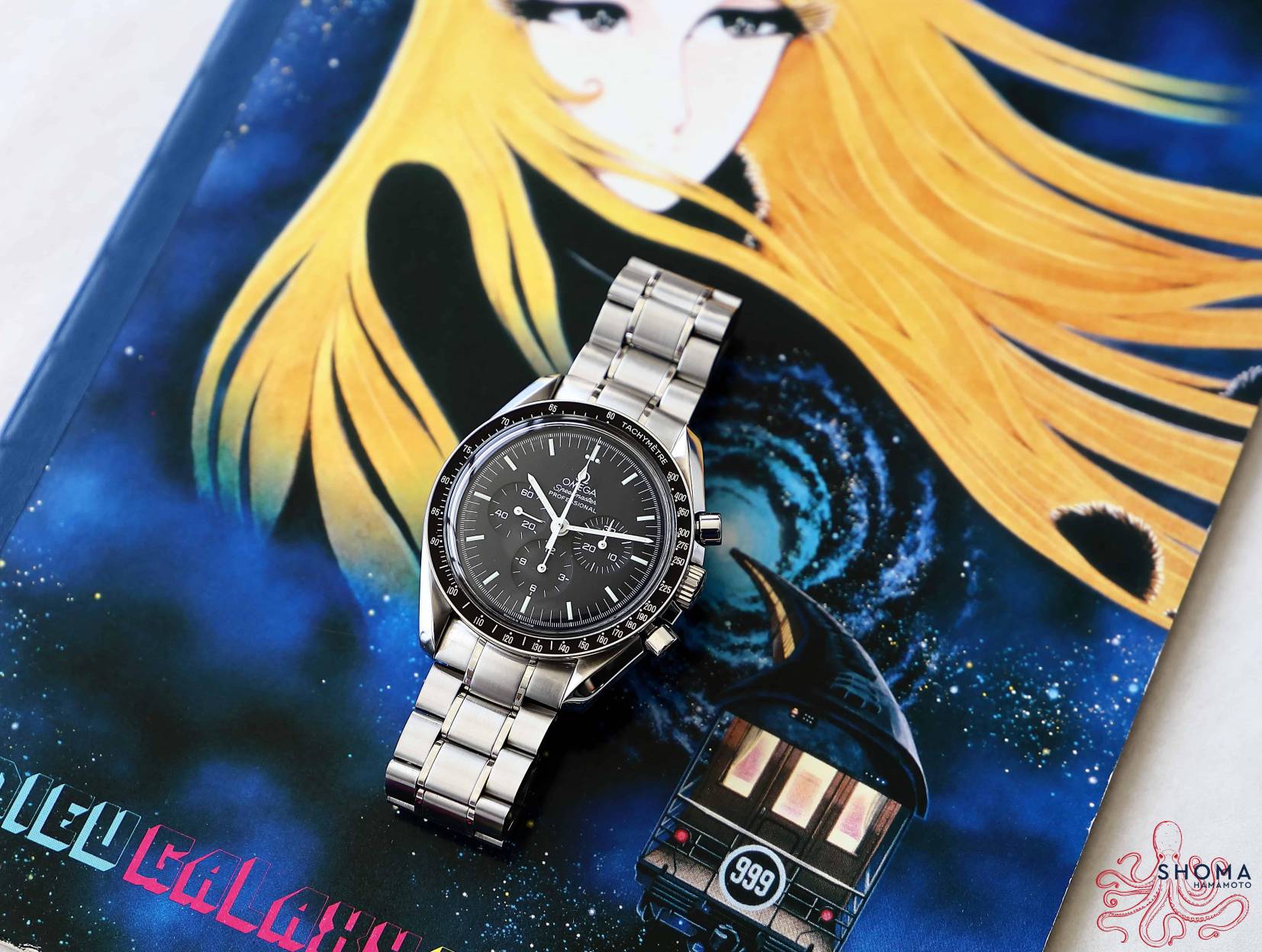 02 Sep

A Delight For Manga Enthusiasts In The Omega Speedmaster Professional Galaxy Express 999
A Delight For Manga Enthusiasts In The Omega Speedmaster Professional Galaxy Express 999
The Omega Speedmaster Professional is enough to elicit a squeak of delight from many a wristwatch enthusiast in its own right. It is, after all, the Omega series that saw a timepiece travel to the moon and back. However, for those with a passion for Japanese Manga and Anime, an even greater treasure awaits. The Omega Speedmaster Professional Galaxy Express 999, reference #3571.50, makes an elegant and unusual tribute to the iconic Japanese manga series of the same name. For fans of the original comic, or later Anime films and television series, this wristwatch is certain to capture hearts as a delightful prize with unusual cultural significance.
Omega's Soft-Spot For The Japanese Market
The Omega brand achieved bounding popularity within the western world, as perhaps the it-brand for timepieces in the mid and latter waves of the last century's undulating fashion trends. However, while the Speedmaster was becoming the wristwatch of choice for NASA astronauts, and Elvis was showing off his double signed Omega x Tiffany & Co in white gold with diamonds, a rather magical Omega passion was evolving within Japan.
So enamored were the Japanese with the stylish and contemporary designs featured within Omega collections that Omega regularly launched unusual and limited designs, exclusively for the Japanese market. Some of these designs rebelled gleefully against the usual Omega signature monochromatic palette, while others offered a more subtle form of exclusivity. This is precisely what can be seen in the Galaxy Express 999 edition. When worn upon the wrist, it appears as any other Omega Speedmaster Professional. However, concealed on the case back is a gem of collectible interest.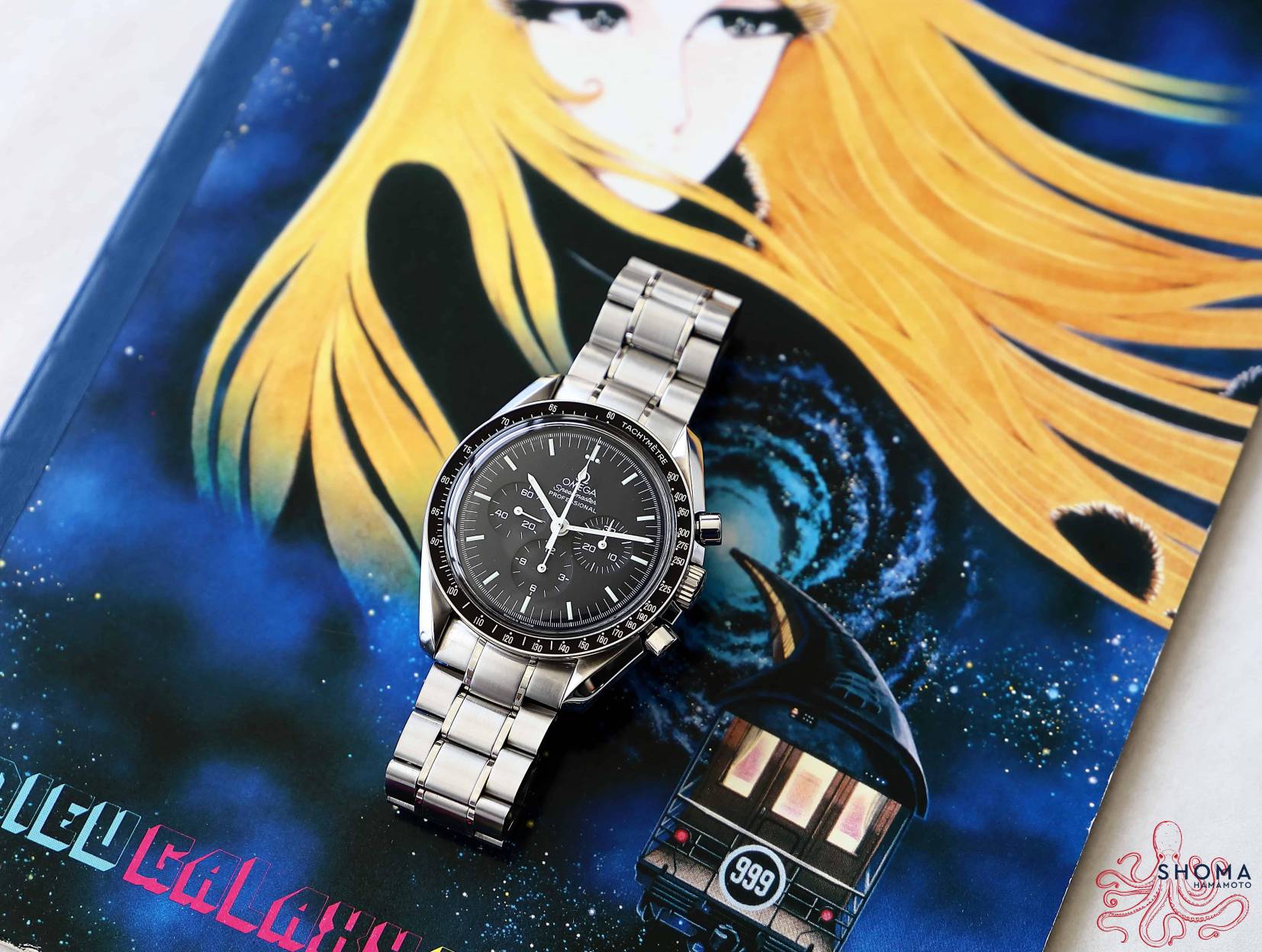 The #3571.50 And Galaxy Express 999
In the late 1970s, cult-status manga artist Leiji Matsumoto created Galaxy Express 999, a sci-fi comic book series. Set in a fantastical future setting, in which outer space and robotics feature thrillingly, characters navigate a world in which humanity developed the capacity to upload their conscious selves into mechanical bodies, achieving the potential of immortality. Ten-year-old protagonist Tetsuro, who dreams of his own immortal form, joins forces with beautiful heroine Maetel, as they set out for adventure on the space train Galaxy Express 999. The meandering story is ultimately one of connecting with our inner humanity. While Tetsuro and Maetel's exploits carry them to an array of dazzling planets, crossing paths with a diversity of humans and aliens, either living or machine, ultimately, each draws Tetsuro closer to the realization that his human spirit is far more valuable than the pursuit of strength and immortality in mechanical form.
Garnering the Shogakukan Manga Award in 1978, and the Animage Anime Grand Prix prize in 1981, Galaxy Express 999 can be easily imagined as the perfect muse for Omega within the Japanese niche market. What makes the Omega Speedmaster Professional reference #3571.50 such a joy is that turning the case reveals an engraved portrait of Maetel, alongside the signature of Leiji Matsumoto, and the numbers 999. For Anime and Manga collectors and horological aficionados alike, there is much heart to be found in the #3571.50.
A Rare Treat That Is Worth Tracking Down
Timepieces from the Omega back catalog will always be worthy of the collector's eye. The luxury Swiss watch brand, with roots in 1848 La Chaux-de-Fonds, has played a central role within horological culture for generation upon generation. From its pivotal role in military timekeeping, to its place as official timekeeper of the Olympic games since 1932, Omega's legacy is substantial. The brand created the first tourbillon wristwatch caliber in the world in 1947, while in the late 1960s, the Speedmaster Professional became the watch of choice for NASA astronauts – and the first wristwatch on the moon in 1969. Seeking out rare versions of such Omegas means possessing a timepiece with many layers of interest to take pleasure in.
Alongside exclusive release in Japan, the Omega Speedmaster Professional Galaxy Express 999 was extremely limited, with only 1999 examples ever created. While this makes this particular model a little harder to come by, the Omega 3571.50 does become available at auction from time to time, making it a realistic aspiration for those captivated by the Manga connection. For a concept already steeped in intrigue, another layer of whimsy is added when we recognize that the edition volume mirrors the production year of 1999. As a Millennium-era example of an iconic timepiece, in combination with an exclusive market, and cult Manga series, the Omega Speedmaster Galaxy Express 999 is undoubtedly destined to become a point of pride for any enthusiasts so lucky to claim one for themselves.